7th Septembre 2023 Workshop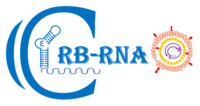 We were glad to welcome you to the International Workshop on Viral Biomarkers, organized by Pr Fabien ZOULIM as part of the CirB-RNA RHU funded by the ANR (Agence Nationale de la Recherche).
This event took place on September 7th, 2023 in Lyon, at the "Hangar du Premier Film" of the Institut Lumière, 15 rue du Premier Film, 69008 Lyon, whose brochure is attached. It was attended by numerous international experts, and provided an opportunity to highlight the scientific advances achieved in the CirB-RNA RHU and the state of the art in Hepatitis B (HBV) biomarker research.
We would like to thank all the participants in this Workshop, from the USA, South Africa, Switzerland, Germany, Italy and Spain among others, for their active participation in the discussions that followed, and the new ideas that emerged.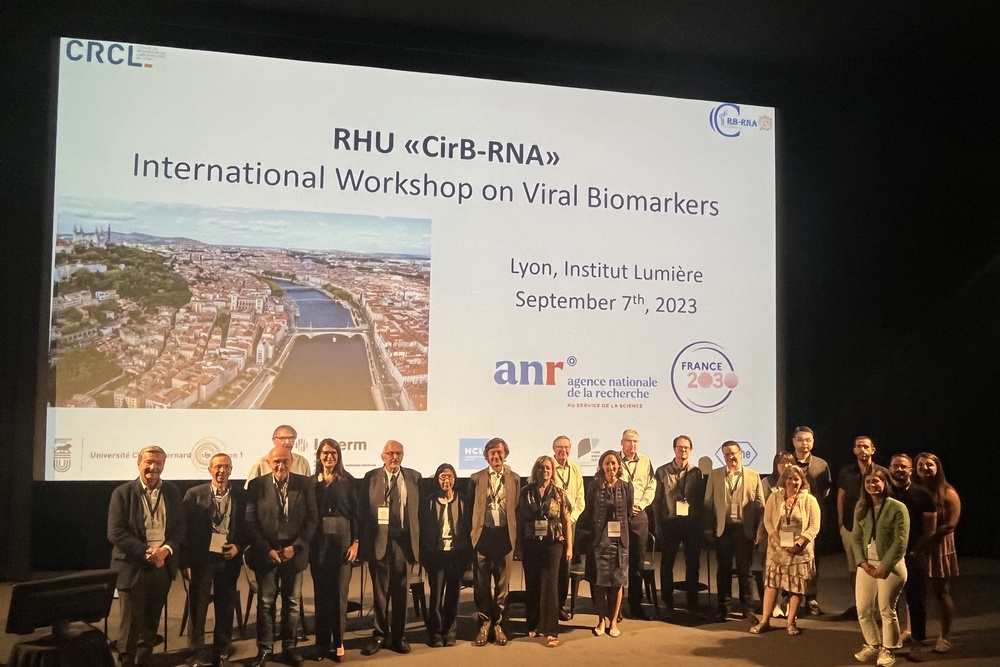 CirB-RNA RHU speakers and scientists present (from left to right):
Front row: Pr Christian BRECHOT, Pr Fabien ZOULIM, Pr Massimo LEVRERO, Dr Marintha HEIL, Pr Antonio CRAXI, Pr Anna LOK, Pr Pietro LAMPERTICO,
Dr Barbara TESTONI, Dr Sabela LENS, Dr Caroline SCHOLTES, Dr Alexia PATUREL
Back row: Pr Eberhard HILDT Pr Walter KOCH, Dr Rob ELTSON, Pr Gilles WANDERLER, Dr Lorin BEGRE, Dr Hyoseon TAK, Dr Doohyun KIM, Dr Guillaume GIRAUD, Dr Vincenzo ALFANO, Sarah HEINTZ
Conference program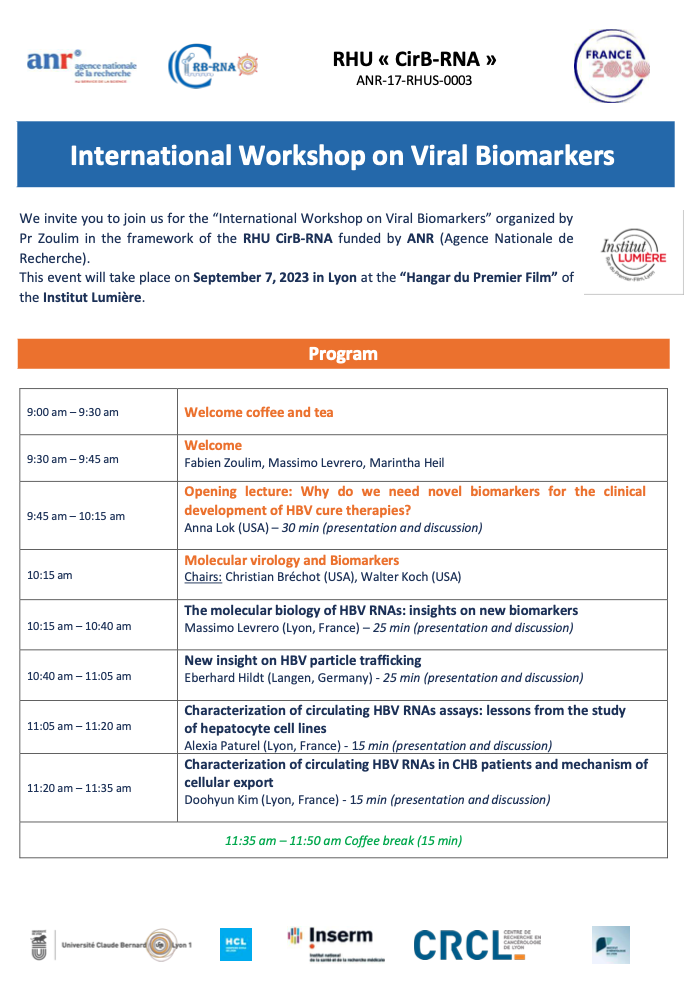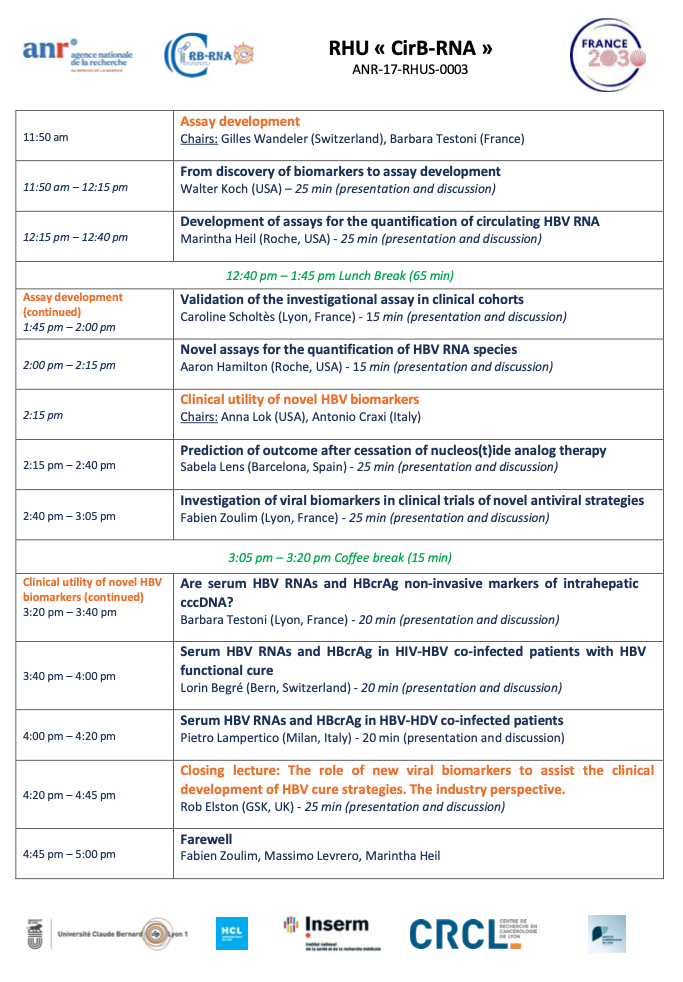 Please find below the speakers' presentations.
Lorin BEGRE: Serum HBV RNAs and HBcrAg in persons with HIV/HBV and HBsAg loss
Rob ELSTON: The role of new viral biomarkers to assist the clinical development of HBV cure strategies: The industry perspective
Eberhard HILDT: New insight on HBV particle trafficking
Doohyun KIM: Charecterization of circulating HBV RNAs in CHB patients and mechanism of cellular export
Pietro LAMPERTICO: HBV-RNAs and HBcrAg in patients with CHD
Sabela LENS: Prediction of outcome after cessation of nucleos(t)ide analog therapy
Massimo LEVRERO: The molecular biology of HBV RNAs: insights on new biomarkers
Anna S. LOK: Why do we need novel biomarkers for the clinical development of HBV cure therapies?
Caroline SCHOLTES: Validation of the investigational assay in clinical cohorts
Barbara TESTONI: Are serum HBV RNAs and HBcrAg non-invasive markers of intrahepatic cccDNA?
Fabien ZOULIM: Investigation of viral biomarkers in clinical trials of novel antiviral strategies