News
Below is a link to World Hepatitis Day:

CRCL Lecture - Monday June 14th - 16h00 CET

Nicole Gaudelli, Beam Therapeutics
"Adenine Base Editors: a journey from publication to the bedside."
Connection to videoconference:
https://zoom.us/j/99738828590?pwd=bUVhMXBjZk42L1AwVlZDNXFyU0ExZz09
ID: 997 3882 8590
Password: CRCL2021
Biosketch & selected references:
Nicole Gaudelli received her B.S. degree in biochemistry from Boston College in 2006 where she studied the structural and mechanistic underpinnings of neocarzinostatin biosynthesis and a non-heme iron oxygenase involved in vancomycin assembly. She earned her Ph. D. in chemistry from Johns Hopkins University where she studied monocyclic beta-lactam antibiotics and elucidated the mechanism through which they are biosynthesized. She completed her postdoctoral fellowship at Harvard University in the laboratory of Professor David R. Liu where she expanded the capabilities of base editing technology by inventing and creating the first adenine base editor (ABE) through 7 rounds of directed evolution and engineering. Both her doctoral and postdoctoral work culminated in prominent Nature publications in the fields of natural product chemistry and gene editing respectively. Nicole is an inventor on numerous base editing patents and is the Director and Head of the Gene Editing Technologies platform group at Beam Therapeutics where her team advances and engineers precision genetic medicines using base editors as well as other gene editing tools. Nicole is a recipient of the 2018 American Chemical Society's "Talented 12" award, recognized as a 2018 STAT News Wunderkind, a 2018 TEDMED Hive honoree, Genetic Engineering and Biotechnology News "Top 10 Under 40 of 2019", BioSpace's 2019 "10 Life Science Innovators Under 40 to Watch", MIT's 2019 Technology Reviews' 35 Innovators Under 35, Business Insider's 30 Under 40 in 2020, Fortune Magazine's 40 Under 40 in Healthcare in 2020 and Enpoint News's 20 Under 40 in biopharma in 2021.
1: Musunuru K, Chadwick AC, Mizoguchi T, Garcia SP, DeNizio JE, Reiss CW, Wang K, Iyer S, Dutta C, Clendaniel V, Amaonye M, Beach A, Berth K, Biswas S, Braun MC, Chen HM, Colace TV, Ganey JD, Gangopadhyay SA, Garrity R, Kasiewicz LN, avoie J, Madsen JA, Matsumoto Y, Mazzola AM, Nasrullah YS, Nneji J, Ren H, Sanjeev A, Shay M, Stahley MR, Fan SHY, Tam YK, Gaudelli NM, Ciaramella G, Stolz LE, Malyala P, Cheng CJ, Rajeev KG, Rohde E, Bellinger AM, Kathiresan S.
In vivo CRISPR base editing of PCSK9 durably lowers cholesterol in primates.
Nature. 2021 May;593(7859):429-434.

2: Yu Y, Leete TC, Born DA, Young L, Barrera LA, Lee SJ, Rees HA, Ciaramella G, Gaudelli NM.
Cytosine base editors with minimized unguided DNA and RNA off-target events and high on-target activity.
Nat Commun. 2020 Apr 28;11(1):2052.

3: Gaudelli NM, Lam DK, Rees HA, Solá-Esteves NM, Barrera LA, Born DA, Edwards A, Gehrke JM, Lee SJ, Liquori AJ, Murray R, Packer MS, Rinaldi C, Slaymaker IM, Yen J, Young LE, Ciaramella G.
Directed evolution of adenine base editors with increased activity and therapeutic application.
Nat Biotechnol. 2020Jul;38(7):892-900.

4: Huang TP, Zhao KT, Miller SM, Gaudelli NM, Oakes BL, Fellmann C, Savage DF, Liu DR.
Circularly permuted and PAM-modified Cas9 variants broaden the targeting scope of base editors.
Nat Biotechnol. 2019 Jun;37(6):626-631.

5: Gaudelli NM, Komor AC, Rees HA, Packer MS, Badran AH, Bryson DI, Liu DR.
Programmable base editing of A•T to G•C in genomic DNA without DNA cleavage.
Nature. 2017 Nov 23;551(7681):464-471.
We are pleased to announce that the Hepatology and Hepatic Transplantation Day will take place on Thursday, December 2, 2021 under the auspices of the Lyon Institute of Hepatology.
Please note this date and we will come back to you soon with the programme and registration details.
Flyer Hepatology and Hepatic Transplantation Day
ILC Congress - Call for abstracts on viral hepatitis
https://easl.eu/event/the-international-liver-congress-2021/submit-your-abstract/
Helen on Everest
Alpinisme : Hélène Drouain, 27 ans est devenue la plus jeune femme à gravir l'Everest (francetvinfo.fr)
https://www.facebook.com/Helene-sur-lEverest-105698024496337
We are happy to share with you this great news: Hélène has reached the summit of Everest on 11/05/2021. She now begins the descent with caution with all her team!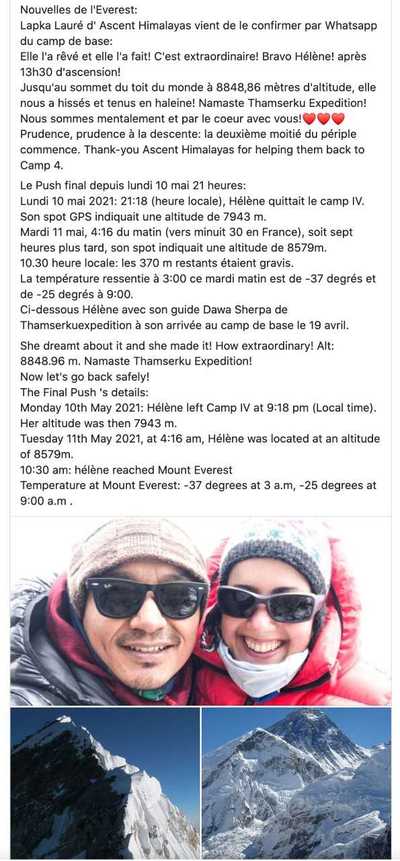 Job offer, Project Manager
Tonic review from HCL, November 2020.
World Hepatitis Day 2020: ANRS still committed
https://www.anrs.fr/fr/presse/communiques-de-presse/720/journee-mondiale-contre-lhepatite-2020-lanrs-toujours-engagee
Prevention of mother-to-child transmission of hepatitis B virus: guidelines on antiviral prophylaxis during pregnancy
https://who.canto.global/pdfviewer/viewer/viewer.html?share=share%2Calbum%2CL5LET&column=document&id=5el5qnrket1n7fbsqp57vgd85k&suffix=pdf
We are pleased to announce the creation of a Liver Emergency Hotline with HCL!

Click to open the presentation: Urgence Foie HCL